Trina Solar releases its 2022 Sustainability Report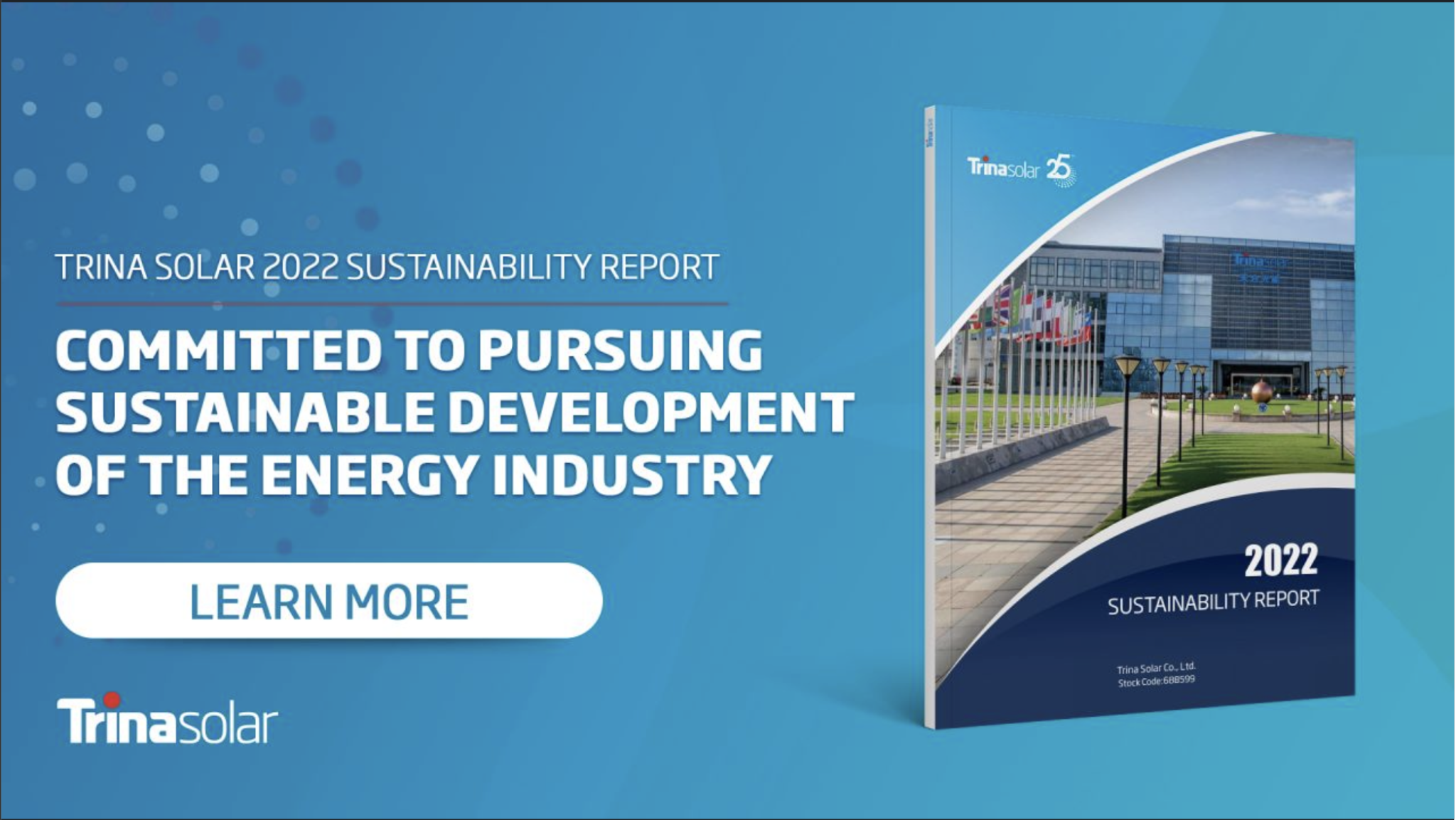 The company has brought clean energy to more than 150 countries, reducing greenhouse gas emissions equivalent to the planting of over 10 billion trees

Trina Solar Co., Ltd. ("Trina Solar" or the "company"), a global leader in smart solar energy solutions for a net-zero future, has released its 2022 Sustainability Report, summarising the company's continuous efforts to pursue sustainable development of the energy industry, and its commitment to the United Nations Sustainable Development Goals. 

Trina Solar has brought clean energy to more than 150 countries, reducing greenhouse gas emissions equivalent to the planting of around 10.3 billion trees. To date, the company has delivered solar modules with an overall capacity in excess of 140GW, equivalent to 6.1 times the installed capacity of the world's largest power station – the Three Gorges Dam in China.  

The report reveals that in 2022, Trina Solar's greenhouse gas emissions intensity per megawatt of cell output was 23.76 tons of carbon dioxide equivalent (tCO2e/MW), and for module products the figure was 9.2 tCO2e/MW. This represents a 51% and 62% reduction from the 2020 baseline respectively. In addition, the energy intensity for cell products decreased by 54% from the 2020 baseline, while energy intensity for modules fell by 42%. 

Trina Solar's water consumption intensity for cell product was 384.89 tonnes/MW, a reduction of 63% from the 2020 baseline, while water consumption intensity for module product was 39.83 tonnes/MW, a decrease of 53% from 2020. 

Since its establishment in 1997, Trina Solar has undertaken a range of initiatives to promote the global energy transition. The company works closely with key stakeholders to ensure a consistent supply of solar energy products, and provides technology training to developing countries in their shift to renewable energy. 

Trina Solar is part of the 2022 Top 50 Forbes China Sustainable Development Industrial Enterprises, and was named winner of the 2022 Ernst & Young Sustainability Excellence Award. In 2022, the company – in partnership with the World Wildlife Fund (WWF) – launched the Clean Energy for Earth global initiative, calling on governments, companies and communities to work together to contribute to a net-zero future. Thanks to its successes in reducing greenhouse gas emissions, Trina Solar is the only PV company to receive the WWF's Climate Solver Award. 

Gao Jifan, Chairman and CEO of Trina Solar, said: "At Trina Solar we take an altruistic approach to everything we do. We believe in taking practical action to fulfil our commitment to the United Nations Sustainable Development Goals (SDG), which means working closely with our global stakeholders to add impetus to the clean energy movement."  

Trina Solar is aiming to achieve 100% renewable energy use in manufacturing and operations by 2030, aligned with the UN's SDG 7. Even today, Trina Solar's total carbon emissions during production, operation and R&D are remarkably less than total carbon emission offset by green electricity generation through Trina Solar PV stations, PV roof electricity generation, green electricity purchase and energy conservation. 

Gao continued, "We care deeply about bringing solar energy to regions across the globe, providing as much support as we can to give back to local communities. All of this is part of our overarching aim to build an ecosystem where clean energy is accessible to all, and help in the transition to a net-zero world. 

"Looking to the future, Trina Solar will remain committed to engaging in inclusive cooperation with our stakeholders, contributing to global efforts towards energy conservation, emission reduction and sustainable development." 

Trina Solar's 2022 Sustainability Report can be downloaded here: https://www.trinasolar.com/eu-en/our-company/sustainability-downloads

About Trina Solar
Trina Solar was founded in 1997. As a global leading provider for photovoltaic (PV) module and smart energy solutions, Trina Solar delivers PV products, applications and services to promote global sustainable development. Through constant innovation, Trina Solar continues to push the PV industry forward by creating greater grid parity of PV power and popularizing renewable energy. Trina Solar's mission is to boost global renewable energy development around the world.
To date, Trina Solar has delivered more than 140 GW of solar modules worldwide. In addition, Trina's downstream business includes solar PV project development, financing, design, construction, operations and management, and one-stop system integration solutions for customers. Trina Solar has connected over 9.5GW of solar power plants to the grid worldwide. Trina Solar first launched the Energy IoT brand in 2018 and is now aiming to be a global leader in smart energy. In June 2020, Trina Solar listed on the STAR Market of Shanghai Stock Exchange. For more information, please visit www.trinasolar.com.