Spotlight on Yvon Mompeyssin, Head of On-Site Solar and Storage at ENGIE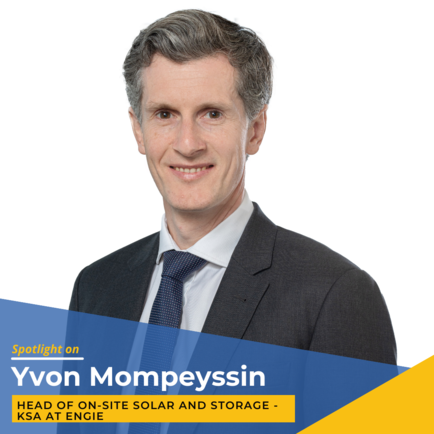 Yvon has 22 years of experience in general management, development and M&A for large and medium-scale infrastructure projects, covering origination, financial close and operations. He was previously a commodities trader and an investor in biotechnology in France (2001-2006) before moving to the UK in 2007 to develop renewable power projects. Yvon has been with ENGIE in the UAE since 2014 and has contributed significantly to developing ENGIE Solutions in the GCC, notably the Tabreed acquisition. He currently leads the On-site Energy Production platform in the GCC. Yvon holds a Masters in Law and International Business and an MBA from INSEAD.
Please describe your role at ENGIE as well as your industry expertise.
I oversee the development, financing, installation and operations of distributed solar PV and battery storage projects located on the premises of our customers in the GCC
What motivated ENGIE to invest in the MENA's solar industry?
MENA's abundant solar resources and high irradiation levels offer immense potential for clean and low-cost energy production. The region has a growing demand for electricity and water, driven by population growth, urbanization, industrialization and economic development. Regional governments have demonstrated commitment to diversify their energy mix, reduce dependence on fossil fuels, and achieve stated climate goals and sustainability targets.MENA governments' increasing support for renewable energy in terms of policies and regulations, such as feed-in tariffs, auctions, net metering, and renewable energy targets, create a favorable environment for renewable energy investments. The industrial sector is large and diverse across MENA, providing a solid foundation for energy transition solar projects delivered through ENGIE's innovative financing models such as Build-Own-Operate-Transfer (BOOT).
Can you tell us about what sets you apart from other competitors?
ENGIE Solutions has a vast global presence and local expertise in MENA, with more than 30 years of experience and a strong track record of successful projects. With our vast global network of partners, we can provide competitive procurement and financing options. In particular, the BOOT model is very popular in the region. Under BOOT, an energy development company like ENGIE will set up a power plant at zero spending by the client, utilizing the client's site for a fixed term period. ENGIE is a technical leader that applies the latest production technologies to its projects.
We remain close to our customers and can provide tailor-made solutions based on a detailed analysis of clients' needs. We have a long-term focus on mutually beneficial partnerships – we don't pursue quick profits and depart; we share the risk over up to 25 years with our customers.
What's a recent milestone ENGIE has achieved that you would like to share with us?
ENGIE Solutions developed a solar PV park as part of a 25-year corporate power purchase agreement (PPA) with NADEC, the first of its kind in Saudi Arabia. The facility, located on an area of land spanning 766,000 sq. meters, roughly equivalent to 21 football pitches, has a capacity of 30 MW. The project will reduce NADEC's fuel consumption by 124,000 barrels per year, cut 53,000 tons of annual CO2 emissions and allow NADEC to align its operations with Saudi Vision 2030. The initial 18 months of the NADEC project have delivered a higher performance ratio than initially planned.
What are your expectations for the MENA region in terms of growth and new opportunities for ENGIE ?
Our projections and other industry data show potential for 10's GW in utility-scale solar. While the regulatory landscape for on-site solar has improved in recent years, a more progressive regulatory regime could unleash immense opportunities for the renewable energy sector. We see potential in developing long-term energy public-private partnerships (PPP), particularly with regional cities pursuing smart city projects with sustainability as a core element. Through recent on-site energy projects, ENGIE is shifting the mindset of industrial companies in the region by demonstrating that financed energy-as-a-service solutions can accelerate decarbonization strategies and allow the region's industrial and manufacturing sectors to focus on core business. Based on the above, ENGIE Solutions anticipates widespread utility-scale PV projects in the UAE and KSA.
How do you see the effects of the increasing adoption of solar energy on the MENA's economy in the coming years?
Green energy will help reduce the region's reliance on oil and gas exports, which are subject to price volatility and geopolitical risks. We can expect a lower cost of electricity generation and an increase in reliability and security, which will benefit both consumers and producers. Clean energy projects will stimulate innovation and entrepreneurship, creating new business opportunities and enhancing competitiveness. The energy transition supports economic diversification and job creation in various sectors, such as manufacturing, construction, operation and maintenance, research and development, and education.
Open question: Is there something you want to add?
We recommend that governments across MENA speed developments on key aspects:
 • Incentives for solar energy deployment
 • Clear laws and regulations
 • Education: Solar-specific training programs need to be implemented with high standards
ABOUT ENGIE
ENGIE Solutions provides sustainable energy and service solutions for cities, communities, industries, and properties to enable them in their Net Zero Carbon journey. ENGIE Solutions aims to reduce our customers' greenhouse gas emissions, with a target of 45 million tons of CO2 equivalent avoided each year by 2030.
A wholly owned subsidiary of the ENGIE Group, a global leader in low-carbon energy and services owning and operating over 105GW of power assets in over 31 countries, ENGIE Solutions is your ally in offering decarbonization solutions through customized business models financed by ENGIE. With our global experience, we work with industries, cities, and local authorities in the GCC to provide tailored energy-efficient solutions. Our unparalleled decarbonization expertise and targeted innovative solutions deliver the highest safety standards and operational excellence around the globe.