Spotlight on Vinod Anthraper, Sales Director (MENA) at DAS Solar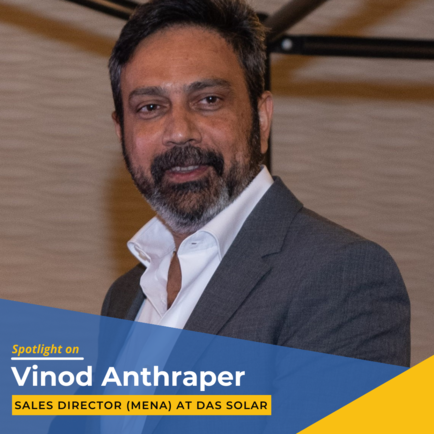 My journey in the solar industry began three decades ago in India, a country blessed with abundant sunlight but grappling with energy challenges. After completing my engineering, I started my career in various roles within the solar industry, gaining a comprehensive understanding of the solar value chain. This experience was instrumental in shaping my perspective on the industry's potential and the role I could play in it. After 15 years in India, I moved to the UAE, where I was associated with Value Addition, a leading solar EPC, for the next 15 years. This role allowed me to contribute to the region's renewable energy goals and further solidified my commitment to the industry. 2023 saw me joining DAS Solar, bringing my extensive experience to this role of Sales Director in the MENA region.
Please describe your role at DAS Solar as well as your industry expertise.
As the Sales Director for the MENA region at DAS Solar, my role is multifaceted and pivotal to our company's growth. With my entire career of 3 decades centering within the photovoltaic industry of India and UAE, I have excellent rapport with the stakeholders. It is my responsibility to develop and implement strategic sales plans to accommodate our regional goals. This involves identifying potential markets, setting sales targets, and working closely with our global marketing team to ensure these targets are realized. I also manage key accounts, fostering strong relationships with our clients to ensure their needs are met while also securing ongoing business. Additionally, I provide market feedback to our production and development teams to align our offerings with market demands. My overall contribution to DAS Solar extends beyond driving sales; it involves shaping our company's presence in the MENA region, ensuring we are not just a supplier, but a trusted partner in the solar industry.
What motivated DAS Solar to invest in the MENA's solar industry?
DAS Solar's decision to invest in the MENA region's solar industry was motivated by several factors. The region's abundant sunlight and increasing demand for sustainable energy solutions present a significant opportunity for growth. Also, many governments in the region have set ambitious renewable energy targets and are actively encouraging investment in the solar sector through favorable policies and incentives. This supportive regulatory environment is conducive to the growth of solar businesses. Furthermore, as a company with a global outlook, DAS Solar is committed to contributing to global efforts to combat climate change. By investing in the MENA region, we can help to reduce reliance on fossil fuels and promote the adoption of clean, renewable energy. Lastly, our investment in the region aligns with our broader strategy of diversifying our markets and strengthening our global presence. We believe that the MENA region has the potential to become a global leader in solar energy, and we are excited to be part of this journey.
Can you tell us about what sets you apart from other competitors?
What sets DAS Solar apart from competition is our commitment to quality, innovation, and customer-centric approach. Our solar panels are manufactured in China, leveraging advanced technology and stringent quality control processes, ensuring high efficiency and durability. We continuously invest in R&D to stay at the forefront of technological advancements in the solar industry. The recent collaboration of DAS Solar and Advanced Photovoltaic Technology Research Centre (University of New South Wales) lead by Martin Green, to initiate a startup project for the development of ultra-high efficiency solar cells exceeding 30% efficiency, is a true testament to our commitment to strive for continuous excellence. Furthermore, we have developed and used proprietary solutions like concrete floating box systems and large span steel rope mounting systems in our projects. This again underlines the fact that we don't just sell our solar panels, but provide sustainable energy solutions that meet our clients' specific needs and contribute to a greener future.
What's a recent milestone Das Solar has achieved that you would like to share with us?
DAS Solar, in collaboration with CHINA HUANENG GROUP (CHNG), successfully implemented the world's first 2,000V PV project recently. The project has a DC-side installation capacity of 182 MW, comprising of 34 subarrays. The project features groundbreaking 2,000V modules, developed jointly by CHNG and DAS Solar's R&D department. To ensure safe and reliable operation of the PV system, DAS Solar conducted rigorous insulation tests and 13,500V high voltage withstand tests on the supplied 2,000V modules. With the adoption of a 2,000V PV system design, the installation capacity of individual modules can be increased by over 30%, resulting in significant savings in DC cable and combiner box usage. Moreover, it reduces balance of system (BOS) costs, lowers the levelized cost of electricity (LCOE), improves yield rates, and accelerates the development and application of PV systems. The DC side of the project occupies the smallest area per 10,000 kW among centralized PV projects in northern China, covering 170 acres.
What are your expectations for the MENA region in terms of growth and new opportunities for DAS Solar?
The MENA region holds immense potential for growth and new opportunities for DAS Solar. With abundant sunlight and increasing awareness about the benefits of renewable energy, the demand for solar solutions is on the rise in the region. Governments are setting ambitious renewable energy targets and offering incentives to promote solar energy, creating a favorable environment for solar businesses. In terms of growth, we expect to see a significant increase in both large-scale solar projects and smaller, decentralized installations. The push for green buildings and sustainable cities in the region also presents opportunities for integrating solar solutions in urban development. New opportunities may arise in the form of public-private partnerships for renewable energy projects, rural electrification initiatives, and the development of solar-powered desalination plants, given the region's water scarcity issues. Overall, we expect the MENA region to be a key driver of DAS Solar's growth in the coming years, and we are committed to providing high-quality, innovative solar solutions to meet the region's energy needs.
How do you see the effects of the increasing adoption of solar energy on the MENA's economy in the coming years?
The increasing adoption of solar energy in the MENA region will have profound effects on its economy in the coming years. To begin with, it will stimulate economic growth by creating jobs in the solar industry, from manufacturing and installation to maintenance and research. This will contribute to reducing unemployment rates and fostering economic diversification. Secondly, the shift towards solar energy will help the region reduce its dependence on fossil fuels, leading to significant cost savings in the long run. It will also free up oil and gas reserves for export, increasing foreign exchange earnings. Also, the adoption of solar energy will attract investment in the region, both from local and international investors, further boosting economic growth. Furthermore, solar energy can play a crucial role in addressing energy poverty in remote and under-served areas, leading to improved living standards and economic opportunities. As the bottom line, the transition to solar energy will contribute to sustainable economic development in the MENA region, while also helping to mitigate the effects of climate change.
Is there a niche product from DAS Solar that could be a gamechanger?
DAS Solar's lightweight flexible PV modules can serve as a niche product in the MENA market due to their unique features and the specific needs of the region. Their lightweight nature makes them ideal for installations where weight is a critical factor, such as rooftops of older buildings or carports or greenhouse roofs with weight limitations. This opens up a vast potential market in urban and rural areas where conventional panels might not be suitable. Their flexibility allows for installation on curved surfaces or irregular structures, increasing the range of possible applications. They can be used in innovative ways, such as integration into building materials, vehicles, or even tents and temporary structures, which is particularly relevant in the region with its mix of modern and traditional architecture. With just 1/3rd weight of traditional modules, these modules are typically easier and quicker to install than traditional panels, reducing installation costs. This, combined with their adaptability, makes them an attractive option for both large-scale projects and smaller, decentralized installations, catering to the diverse needs of the MENA market.
ABOUT DAS SOLAR
DAS Solar is a national high-tech enterprise that specializes in the research and development, manufacturing, and sales of high-efficiency solar cells, photovoltaic modules, and system applications. Having fully automated, state-of-the-art, AI enabled manufacturing facilities at 14 locations, it is also a strategic investment enterprise of state-owned companies. With the main aim of developing high efficiency TOPCon technology through in-house R & D and Industry-University research co-operation, DAS Solar was founded in August 2018. Around 20% of its workforce is active in the R & D department and about 5% of its annual revenue is earmarked for R & D activities. This focus in R & D has resulted in DAS Solar having more than 150 patents to its credit. As a leader in N-type photovoltaic technology, it has also established a comprehensive sales network at home and abroad with exports to more than 60 countries and regions. With a production capacity of 30GW for high-efficiency cells and 30GW for high-efficiency modules, DAS Solar has become a leading top-tier brand in the photovoltaic market.