Spotlight on Samuel Zhang, CMO at Astronergy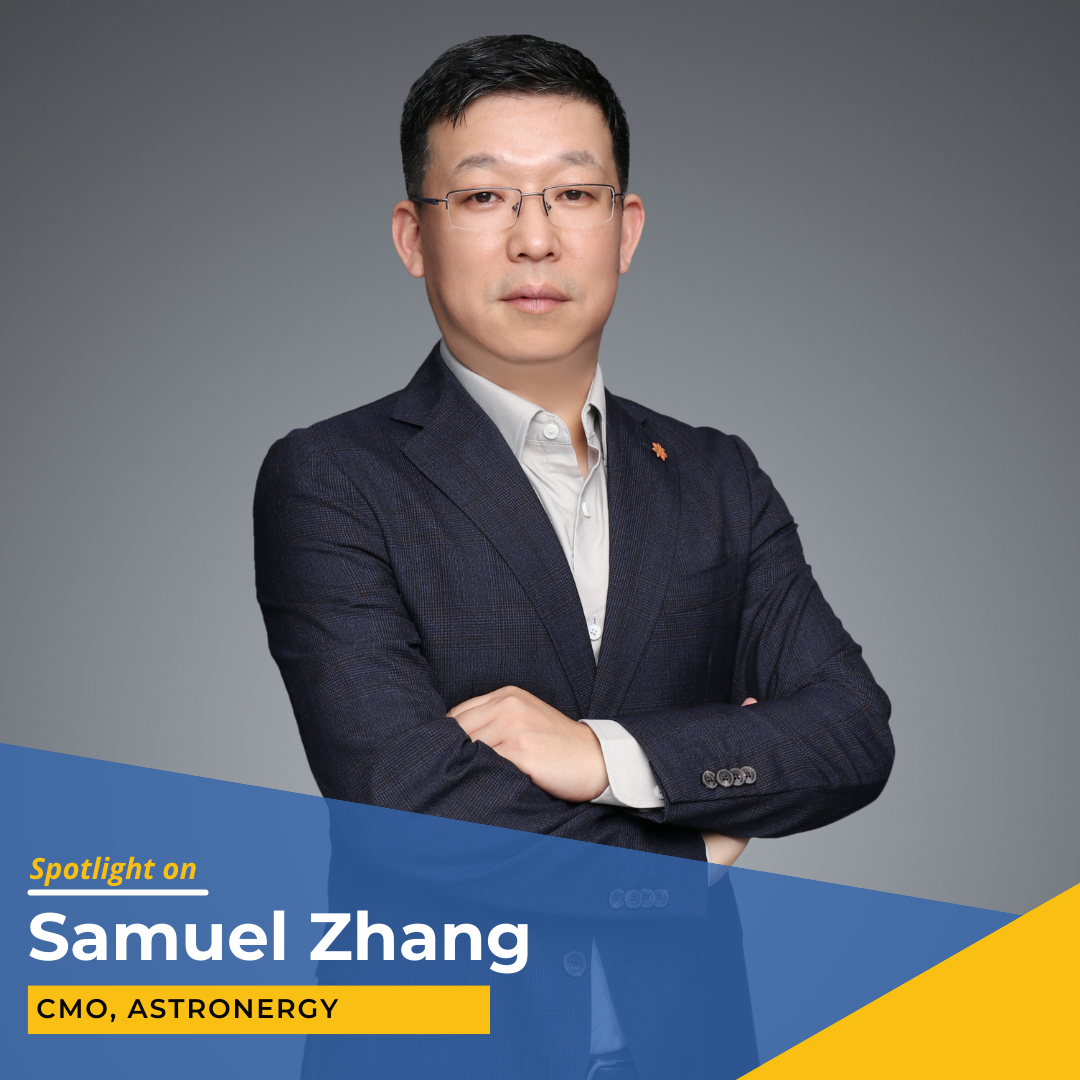 Samuel Zhang, currently the CMO of Astronergy with responsibility for overseeing all sales, marketing and product functions for the global Astronergy organization.
Zhang brings to this position over 20 years of experience in the renewable industry, including a long time in Suntech. Before dedicating himself into solar sector, Zhang started his career in a global leading telecom company, serving in commercial role in overseas markets.
Zhang received his master degree in Communication Engineering from Shanghai Jiao Tong University, and his bachelor's degree in Information Science and Engineering from Xi'an Jiao Tong University.
Please describe your role at Astronergy as well as your industry expertise.
Now, I'm responsible for overseeing all sales, marketing and product functions for the global Astronergy organization.
I've been involved in the renewable industry for over 20 years, including a long-time working at Suntech. Before dedicating myself to the solar industry, I started my career in a global leading telecom company, serving in commercial roles in overseas markets.
Can you tell us about your most advanced sector (solution or service) and what sets you apart from other competitors?
Astronergy get involved in photovoltaic field in 2006 and is one of the earliest private enterprises in China to enter the field. Over the past 17 years, we have accumulated considerable experience in the manufacturing and management of PV modules.
In addition, relying on the green energy sector of CHINT Group, we have reserved strength in upstream and downstream industrial chains and constructed a complete industrial green development system. This is a congenital advantage for us.
In addition, Astronergy firmly chose the right path at the most appropriate time. We are a pioneer in R&D and mass production of n-type TOPCon PV modules.
At present, the average efficiency of our mass-produced TOPCon cells is 25.3%, which is leading in the industry.
What's a recent milestone Astronergy has achieved that you would like to share with us?
On May 22, we acted as the first in the PV industry to finish the PERC-to-TOPCon PV cell manufacturing line technological modification. The improved line rolled out its first piece of the TOPCon cell on the same day. It is a milestone marking the TOPCon cell capacity of us hitting 36GW, keeping leading in the industry.
And at the SNEC expo in Shanghai in May 2023, we launched upgraded TOPCon PV module products – ASTRO N7 and ASTRO N7s. The product adopts the TOPCon 3.0 tech independently developed by ourselves, which could make the modules have an efficiency of at least 22.7%.
Above two things could be seen as two important milestones for us recently.
What are your expectations for the MENA region in terms of growth and new opportunities for Astronergy?
MENA is now one of the fastest growing markets because of its abundant irradiance and land resources. The region reached 22.7 GW of cumulative installed PV capacity at the end of 2022, according to statistics from BNEF. It is expected to install 9.95 GW of new solar capacity in 2023, comprising approximately 6.99 GW of utility-scale projects and 2.96 GW of rooftop projects. Last year, China shipped over 6 GW of PV modules to this market, and is considered as the main export country.
As per the simulation result of Astronergy, TOPCon has an obvious advantage of high energy yield in the MENA region due to the low temperature coefficient. It is also found that N type technology is getting popular in the utility market. As a leading company of n-type TOPCon PV modules, Astronergy will enhance its presence in this market.
How has Astronergy utilized innovative technology to enhance their solar products and services in the MENA region?
Taking the new ASTRO N7 products as an example, Astronergy utilizes its independently developed TOPCon 3.0 tech and rectangle silicon wafers with a larger area. With a 5.12% area increase and TOPCon 3.0 tech, the power of a single cell has increased by 15% compared to mainstream PREC PV products in the market.
And in the manufacturing process of ASTRO N7, Astronergy has introduced SMBB tech, and utilized high transmittance glassed and light-redirecting films to enable the new products could have better performance in almost all scenarios.
Same as previous ASTRO N series products, ASTRO N7 will have a least 15 years product warranty and 30 years power warranty. All these two products' first-year degradation is far lower than 1% and the per-year degradation in the 2nd to the 30th year is lower than 0.4%.
See from the whole, the newly upgraded products have higher power and higher efficiency, with lower BOS and LCOE costs. The temperature coefficient of ASTRO N7 has been further optimized to -0.29%/℃. And in terms of operating temperature, bifaciality, LID&LETID, and low irradiation performance, the newly updated products all have fabulous performances.
Open question, is there something you want to add?
The world is in an accelerating period of energy transition, with efficient, clean, green, and low-carbon solar energy being increasingly accepted by more countries and regions. Under the overall trend, the PV industry will continue to experience a period of rapid growth and continuous expansion of market capacity.
Astronergy also fastens its development plan and provides more high-quality products for use.
At present, we have 4 new manufacturing bases under construction, and with the addition of 6 bases that we have already put into production, we expect to have 10 intelligent manufacturing bases to achieve mass production by the end of this year.
It is expected that our total manufacturing capacity will increase by over 150% by the end of 2023. It is planned to increase the module capacity to 50GW by the end of this year, with the n-type TOPCon capacity increasing to 36GW. By 2025, our TOPCon capacity will account for over 90%, far higher than the industry average of 40%.
ABOUT ASTRONERGY
Founded in 2006, Astronergy is an intelligent manufacturing enterprise focusing on photovoltaic cells and modules and has been a pioneer in n-type TOPCon PV modules. Nowadays, its business footprints are all over 140 countries and regions in the world. Committed to be the most competitive photovoltaic modules supplier worldwide, Astronergy sets its mission to create a sustainable and net-zero carbon world with solar power. Astronergy has continuously launched the ASTRO series high-efficiency, high-quality, high-performance modules, which are perfectly applied in all scenarios such as utility-scale power stations, commercial & industrial (C&I) PV systems and residential PV systems.