Spotlight on Preeti Taneja, KA Director of Overseas Strategy Key Account Center at SUNGROW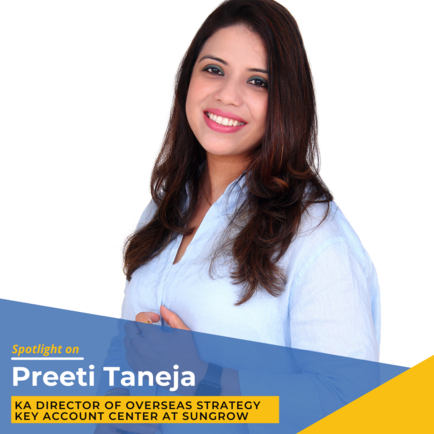 With Sungrow, as KA Director of Overseas Strategy Key Account Center , I contribute to the business growth in MENA region. I am a passionate individual whose love for cycling, nature, women empowerment, and travelling define me out of 9-5 job. Cycling is more than just a hobby for me; its way to connect with the world around me.
My deep appreciation for nature is evident in my commitment to preserving and cherishing it which make me understand the importance of environmental sustainability and actively participate in initiates to protect and promote the beauty of the natural world. Women empowerment holds a special place in my heart. I believe in breaking stereotypes and creating a more inclusive society where women are encouraged to pursue their passions fearlessly.
Tell us more about your journey in renewable, when/where did it start, and how did you come to work with Sungrow ?
If I look at my own reflection on my own journey in the realm of renewable energy, it has been incredible adventure filled with growth, challenges, and deep sense of purpose. The journey began with a spark of curiosity, a realization that we needed to find sustainable alternatives to meet energy needs. I immersed myself in research, learning about various renewable technologies, their benefits, and their potential impact on the environment. The more I delve into, the more passionate I became about creating a greener and cleaner future.
Armed with newfound knowledge, I took leap of faith and decided to pursue career in renewable energy even my being an Information Technology Engineer. I started small in my early career while working with some of the great companies in Solar PV sector from Cells to Module manufacturers. When I look back, I feel sense of satisfaction and gratitude of having worked with like minded individuals who applied their knowledge, know-how and business acumen for the better. Most of my previous career opportunities were within Indian Solar Space covering and establishing business with almost all predominant renewable developers of India.
Opportunity of working with Sungrow, came through an availability of creating and establishing business opportunities for Middle East market.
Can you tell us about your most advanced sector (solution or service) and what sets you apart from other competitors?
Sungrow's product portfolio encompasses a wide range of cutting-edge solutions, including solar inverters, energy storage systems and EV charging solutions and renewable hydrogen production systems. Sungrow's products are known for their reliability, and innovative features, making then highly sought after by customers worldwide.
For Solar Inverters and Energy Storage Systems, Sungrow has consistently ranked among the top manufacturers globally. Especially, Sungrow was ranked world's No.1 in inverter shipments by S&P Global Commodity Insights. We have built a reputation for delivering high-quality inverters that maximize energy production, ensure grid stability, and offer advanced monitoring and control capabilities. Sungrow's inverters are widely recognized for their durability, performance, contributing to their strong market position.
One of the key factors that sets Sungrow apart from its competitors is its continuous focus on research and development. The company invests significantly in technological advancements and product innovation, enabling them to stay at the forefront of the industry. Sungrow's commitment to R&D has allowed them to introduce state-of-the-art products with enhanced functionalities and improved efficiency, giving not only them but also its customers a competitive edge in the market.
What's a recent milestone Sungrow has achieved that you would like to share with us?
Among many milestones that Sungrow has achieved in China and other international markets, the standout achievement, is Sungrow's participation in Neom. Neom is a landmark cross-border city project that was announced by Kingdom of Saudi Arabia in 2017. NEOM is envisioned as a hub for various sectors, including technology, renewable energy, biotech, media and entertainment. The project aims to be a model for sustainable living, with a focus on renewable energy sources and environmentally friendly practices. Neom is also expected to be center for innovation, research and development with high-tech infrastructure, advanced transportation and smart city technologies and focus on robotics and automation. The development work has tremendous attraction to international investors. The recently announced financial close of $ 8.5 billion for Neom Green Hydrogen facility is testimony of it. Sungrow is proud to be part of this project, where Sungrow will supply Solar PV inverters and Energy Storage System for the whole project.
What are your expectations for the MENA region in terms of growth and new opportunities for Sungrow ?
The Middle East and North Africa (MENA) region has great potential for the growth of renewable energy due to its abundant solar resources, favorable wind conditions and increasing interest in reducing dependencies on fossil fuels.
Several countries in the MENA region have recognized the benefits of renewable energy and have set ambitious targets to increase their renewable energy capacity. For example, KSA aims to generate 50% of its electricity from renewable sources by 2030, while the UAE has a target of achieving 50% clean energy by 2050.
The region's commitment to renewable energy is driven by factors such as diversifying energy sources, reducing carbon emissions, and enhancing energy security. This is also evident from the large-scale development under way in Solar PV sector supported by huge investment interests.
However, challenges such as policy frameworks, financing, grid integration, and the need for infrastructure development still exists.
MENA is key market for Sungrow's growth strategy for the next five years and more looking at the capacity targets set by multiple countries in the region and Sungrow is already having largest share of the market and will thrive to continue improving it over the years. With wide range of technologically advanced products, such as 1+X modular inverter and liquid cooling energy storage systems, supported by strong after sales network, Sungrow's is well positioned to support MENA region achieve their targets.
ABOUT SUNGROW
Sungrow is the world's most bankable inverter brand with over 340GW installed worldwide as of December 2022. Founded in 1997 by Professor Cao Renxian, Sungrow is a leader in the R&D of solar inverters with the largest dedicated R&D team in the industry offering PV inverter solutions and energy storage systems for utility-scale, commercial & industrial, and residential applications, as well as floating PV plant solutions, EV charging solutions and renewable hydrogen production systems.
Sungrow possesses a dynamic technical R&D team that represents 40% of the personnel in the Company. The Company has also invested in its own in-house testing center approved by SGS, CSA, and TÜV Rheinland. Sungrow has the world's largest inverter factory, with a global annual production capacity of 305GW, including 25 GW outside China.