Spotlight on Ibrahim Kadriinamdar, Regional Sales Manager MENA and India at Solplanet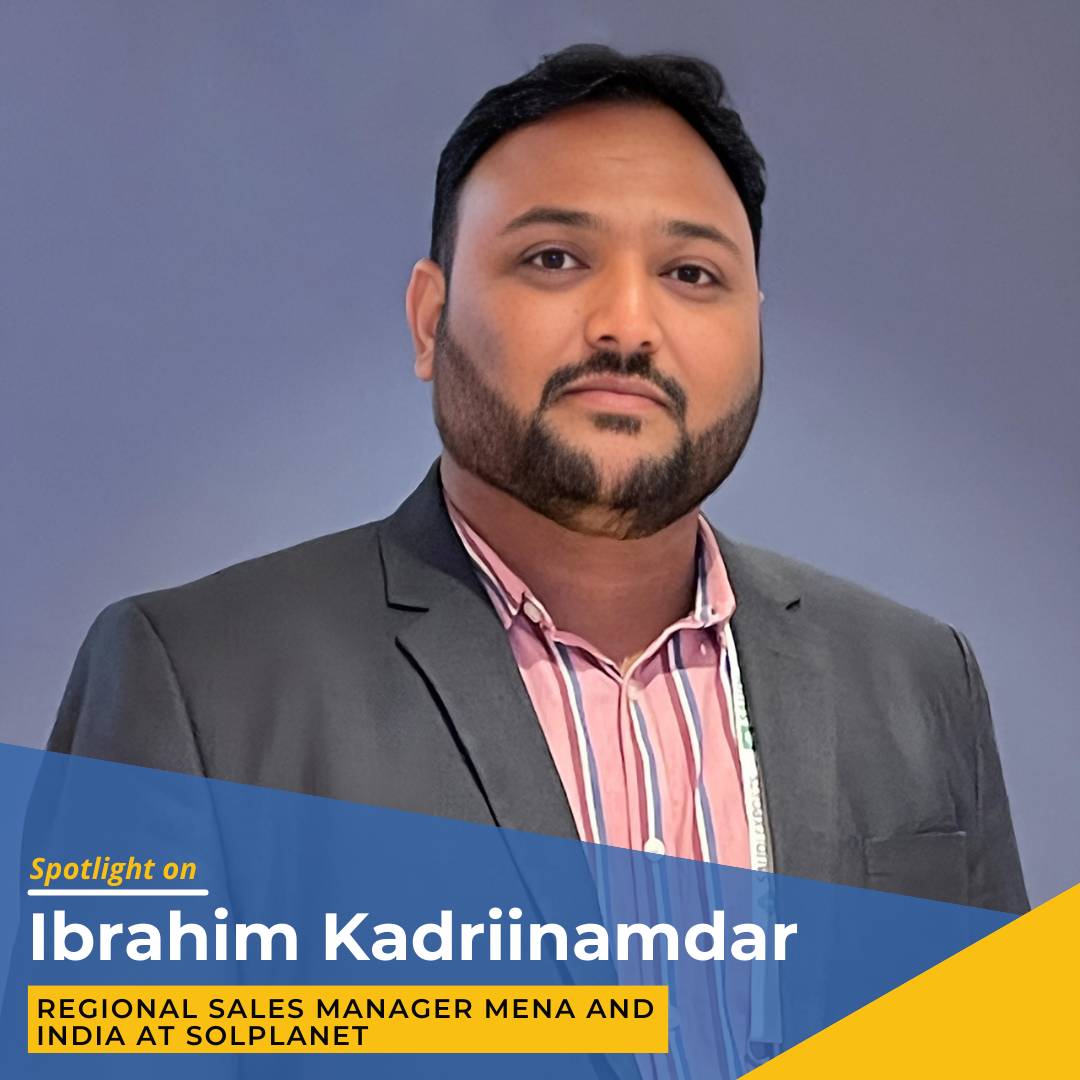 As an MBA professional with 14 years of experience driving strategic sales in the APAC region, I have been entrusted with the responsibility of spearheading business development efforts for Solplanet in the MENA and India regions. My expertise lies in new business development and market expansion, with a particular focus on promoting sustainable growth and generating revenue for stakeholders in the Solar PV inverters and EV Charger industries. Notably, I have successfully managed channel sales operations and overseen after-sales service for the 2GW utility portfolio in India. Outside of work, I find great fulfilment in travelling to various destinations and actively participating in volunteer work for social causes.
Please describe your role at Solplanet as well as your industry expertise.
As the Regional Sales Manager at Solplanet, I am responsible for overseeing the MENA and India markets. My expertise lies in developing new markets by establishing business relationships through the appointment of channel partners and the activation of key accounts. With a strong focus on product features and benefits, I aim to leverage my experience to drive business growth for Solplanet in the MENA and Indian regions. Previously, I held the position of Sales Head at SMA, where I successfully managed the Indian market. In addition, I took on the additional responsibility of overseeing the 2GW O&M portfolio for a utility-scale business. My skills extend to sales forecasting and managing large-scale business deals. I am always eager to expand my knowledge, currently focusing on OEM and ODM business practices. Throughout my career, I have successfully launched multiple products to the market, including the Sunny Tripower series by SMA, Zeversolar, and SolidQ50 products.
How did your story in renewables begin, and in your opinion, how much has it changed since then, if at all?
I entered the solar industry in 2012, gaining experience at Kirloskar and Havells in the EPC business. Furthermore, I have gained valuable recent experience by overseeing business operations in India while working with SMA. Throughout my career, I have witnessed the remarkable evolution of the solar industry, particularly in its early stages. Initially, solar projects were sold at a premium cost; however, technological advancements have made the industry increasingly competitive in terms of pricing. It is heartening to see that the public is now well-informed about these technological advancements, enabling them to choose the best products available in the market. The industry has progressed from on-grid technology to hybrid storage solutions, and today, we have compact power packs that greatly appeal to residential consumers. Solplanet is committed to offering technically robust and durable power packs, aligning with this exciting trend in the market.
Can you tell us about your most advanced sector (solution or service) and what sets you apart from other competitors?
As the fastest-growing company in the industry, we take pride in our extensive 15 years of knowledge and experience. This expertise has enabled us to develop a technologically robust product capable of operating efficiently in various environmental conditions, meeting the diverse demands of consumers. Our primary focus is to provide developers with unparalleled benefits by offering best-in-class after-sales service support, ensuring uninterrupted energy conversion from the sun. With a wide range of inverter models, we cater to the design requirements of different plant capacities. Additionally, our in-house developed communication and monitoring platform underscores our commitment to security and data privacy, which is of paramount importance in today's world.
What's a recent milestone Solplanet has achieved that you would like to share with us?
We are delighted to announce the appointment of Power-n-Sun and Knox FZCO as our authorized partners for the MENA region. With their support, we aim to achieve remarkable success in the commercial and industrial (C&I) segment, targeting a business volume of 100 MW in the first year of operation. Our ready stock and ongoing discussions regarding significant opportunities demonstrate our commitment to supplying Solplanet inverters. Recently, we accomplished a milestone by successfully executing the largest 5 MW utility project in the MENA region, utilizing our flagship product, the 110 kW inverter. Excitingly, there are several upcoming projects on the horizon. The positive responses received from EPC companies and developers have been incredibly encouraging, prompting us to expand our presence in various countries within the MENA region. We particularly identify significant potential in the markets of KSA and Egypt. To ensure seamless sales and service operations, we have established a robust network throughout the MENA region. We are grateful for the strong partnership that supports our goals and look forward to continued success together.
What are your expectations for the MENA region in terms of growth and new opportunities for Solplanet?
Solplanet takes pride in its strong technological capabilities and applauds the commendable renewable energy policies that various countries in the region implement. As part of our market approach, we are actively engaging multiple developers and EPC companies, encouraging them to experience the cutting-edge technology embedded in our products. In the pipeline, we have an exciting offering in the form of a 320-kW string inverter designed specifically for the utility segment. The launch of this product in FY2024 is anticipated to generate significant business opportunities in the MENA region and beyond. Furthermore, we recognize the potential for Hybrid inverter technology in the region and are exploring avenues to capitalize on this opportunity. Solplanet remains committed to providing innovative solutions that align with the evolving needs of the market.
Can you tell us about Solplanet's approach to solar energy for homes and businesses in the MENA region?
Solplanet inverters are equipped with ShadeSol technology, a crucial feature that optimizes energy generation by addressing shading issues. This feature holds significant importance for both residential and commercial and industrial (C&I) segments. We take pride in positioning Solplanet inverters as a high-quality solution offered at a competitive and affordable price point. Recognizing the challenges associated with demand and supply, we ensure ready stock availability at our distributor points. The lightweight design and user-friendly installation procedures of Solplanet inverters have garnered immense appreciation and interest from numerous EPC companies. Additionally, our pro version inverters are capable of accommodating high ampere strings and support a 150% DC overload, catering to the unique demands of various regions. Solplanet remains committed to delivering reliable, efficient, and technologically advanced solutions that meet the market's evolving needs.
Open question, is there something you want to add?
In light of the specific requirements and conditions in the MENA region, we advise developers, EPC companies, and stakeholders to consider Solplanet inverters as their preferred choice. Our inverters, featuring ShadeSol technology for optimized energy generation, are well-suited for the unique challenges associated with shading issues in the region. Moreover, the high-quality construction and competitive pricing make Solplanet inverters an attractive option for both residential and commercial projects. With our ready stock availability and efficient after-sales service network, we ensure a seamless experience for our customers in the MENA region. By choosing Solplanet inverters, stakeholders can benefit from cutting-edge technology, ease of installation, and reliable performance, ultimately contributing to their success in the dynamic renewable energy market of the MENA region.
ABOUT SOLPLANET
Solplanet is a brand of AISWEI. Also known as SMA's Chinese subsidiary, AISWEI has been manufacturing reliable, high-quality solar products for world-renowned brands like SMA and Zeversolar since 2007. Today, AISWEI is an independent solar research, development, and manufacturing company that strives to bring solar to everybody by making it accessible and simple to use. A recent equity restructuring has put AISWEI on a particularly good footing within the solar manufacturing industry. With Solplanet, you get innovative solar products that are easy-to-install, highly reliable, extremely user-friendly and supported by our award-winning customer service. From single-phase inverters for residential use, to three-phase high-performance inverters for commercial and industrial situations, and even EV chargers, Solplanet's product line contains simple to- use products that can help to bring more sun into any home or business.