Solplanet Supplies Aquarius Model Three-Phase Inverters for Solplanet's Largest Solar Installation in the World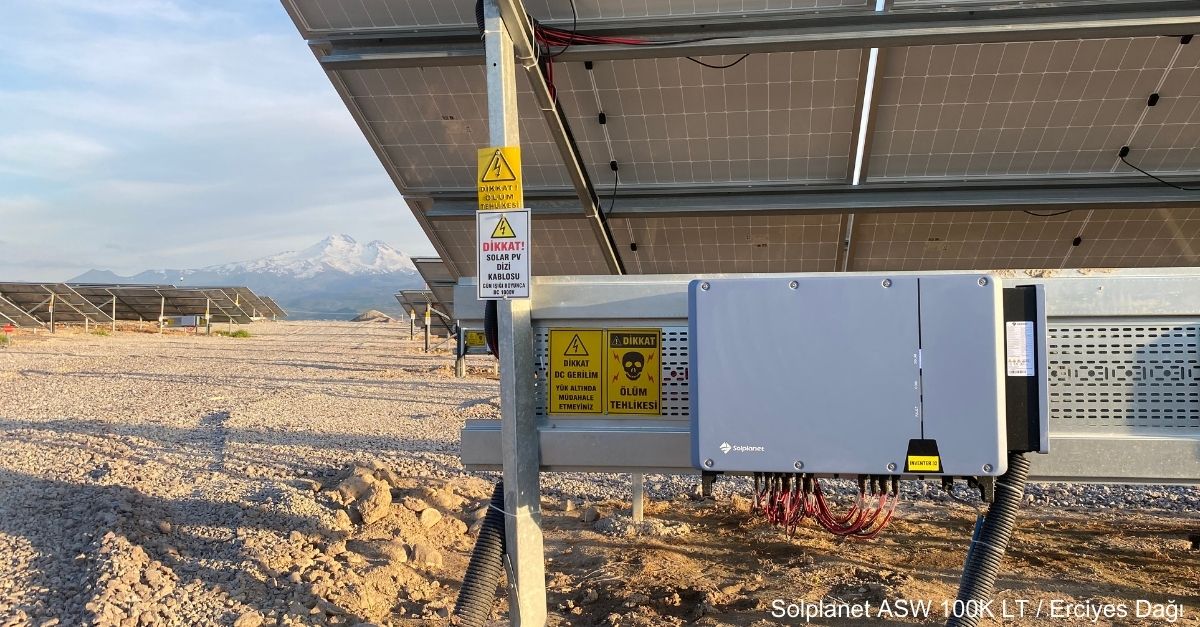 Solplanet's High-Quality Aquarius Model Three-Phase Inverters Support Turkey's Largest Solar Power Project in Kayseri, Promoting a Sustainable Future for All.
Solplanet, a leading inverter company, is proud to announce its latest project, the Kaski Kibaat Solar Power Plant Second Phase. This project involves the installation of 51 x ASW 100K LT three-phase inverters and AE Solar 450Wp solar panels, with an installed capacity of 6.55MWp/h and a production capacity of 5 MWe/h. The municipality of Kayseri in Central Anatolia, Türkiye has chosen our powerful and reliable solar inverters to support their massive solar power project, the Kaski Kibaat Solar Power Plant.
This groundbreaking solar project contains over 14,000 solar panels and boosts an impressive installed capacity of 6.55MWp/h, with a production capacity of 5 MWe/h. The project will annually produce 11 million kWh of clean and sustainable energy, which will significantly reduce the cost of Wastewater Treatment Facility while protecting the health of Kayseri's residents.
As part of this project, Solplanet's innovative Ai-Logger1000 monitoring system has been implemented, which provides real-time data on the performance of the solar power plant. Additionally, a Seven Sensor Solutions Weather Station has been installed to monitor weather conditions, ensuring optimal performance.
We are thrilled that our high-quality and reliable Aquarius solar inverters were chosen to support this project. The installation of 51 x ASW 100K LT three-phase inverters ensures that the solar array will be a problem-free energy production powerhouse. Our inverters are designed to be durable, efficient, and easy to maintain, ensuring that the solar installation in Kayseri will operate at peak performance for many years to come.
We at Solplanet are honored to be a part of this visionary project, which represents a significant step towards a brighter, more sustainable future. This installation is a new record for us, and we are proud to have contributed to the success of this project. By harnessing the power of the sun, this project will help to reduce greenhouse gas emissions and contribute to a more sustainable energy future.
Solplanet is committed to providing innovative and sustainable solutions to meet the world's growing energy demands. We are proud to play a part in the transition towards a brighter and more sustainable future, and we look forward to continuing to work with our partners to bring renewable energy solutions to communities around the world. With a focus on quality and reliability, Solplanet is leading the way in the development of cutting-edge solar technology that delivers real-world results.
About Solplanet
Solplanet is an overseas brand of AISWEI. AISWEI is a global organization manufacturing high-quality and reliable inverters since 2007, formerly known as SMA's China subsidiary with a broad portfolio of PV inverter products, EV charger, and energy management system.
The future is solar for everybody.
We are driven by a simple idea: solar for everybody. That's why our products are easy to install, reliable, and user-friendly.
Make things easy.
We strive to create the best possible experience for distributors, installers, and end-users.
Solplanet – we make solar for everybody. You can depend on us.
Further information is available on the Internet at www.solplanet.net and www.aiswei-tech.com