PVH SIGNS WITH CEEC TO SUPPLY 1.7GW FOR THE BIGGEST SOLAR PROJECT IN MIDDLE EAST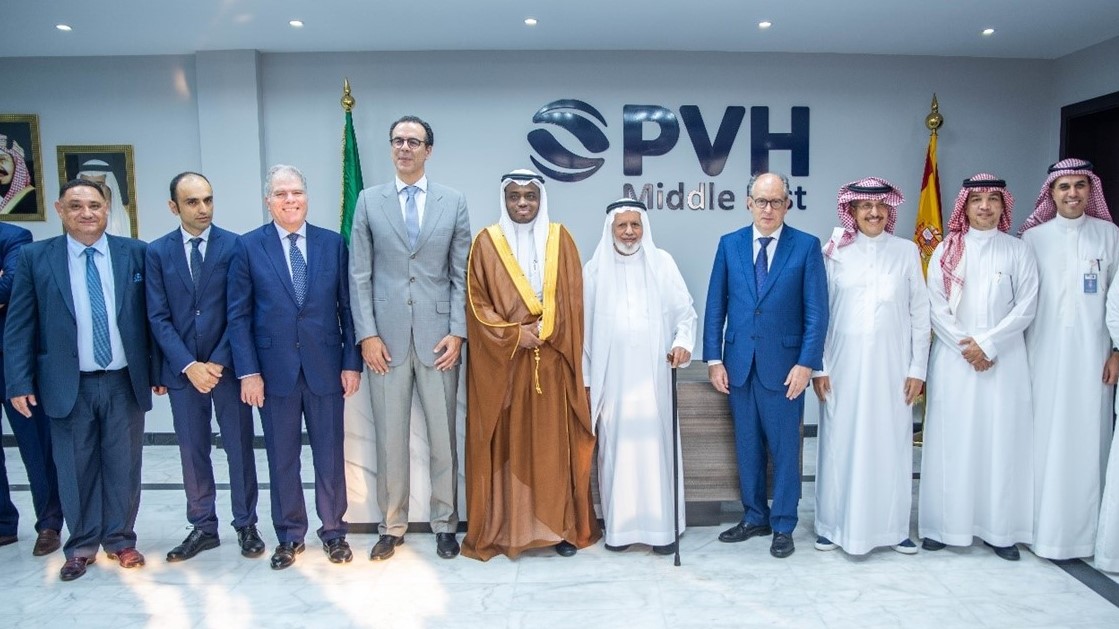 Mr. Mohammad A. Abunayyan, Chairman of ACWA Power and Eng. Fuad Mosa (Deputy Minister at Ministry of Energy) during a visit to the PVH factory in Jeddah, next to Youssef El Sayed (CEO at PVH Middle East), Emilio García (COO PVH), Ivan Higueras (Chairman PVH) and Jorge Hevia (Spanish Ambassador at Saudi Arabia)
Jeddah, 17th August.- PVH, the number one solar tracker manufacturer in Middle East, has signed a major contract with China Energy Engineering Group Co., Ltd (CEEC) to supply 1.7GW for the largest solar project in the MENA region. The project is located in the Al Shuaibah area of Jeddah City, Makkah Province in Saudi Arabia, and it adds on to the list of many successful projects carried out by the Kingdom to achieve its 'Vision 2030' of reducing the use of fossil fuels and leading the global transition towards a clean and green energy system.
Saudi Arabia is committed to the preservation of the environment and has designed an elaborate strategy to generate 50% of its energy from renewable sources by the end of the decade. To this end the government is actively expediting the regional energy transition with a total of 27.3GW of renewable energy in its foreseen pipeline. The Saudi Public Investment Fund (PIF) aims to develop 70 percent of the Kingdom's renewable energy capacity by 2030 and has invested around SR1.5 trillion (US$400 billion) since 2016 in alternative energy. The Al Shuaibah project represents a total investment of SR8.3 billion ($2.2 billion) in its two phases, with a 2GW solar photovoltaic plant that is expected to begin commercial operations by the fourth quarter of 2025.
As the leader solar tracker manufacturer in the area, PVH is bound to play a key role in the realization of the Saudi Vision 2030. "Al Shuaibah is a very important project for PVH to showcase our expertise with product engineering and resilient design adapting to a projected lifetime of 35 years. This project is a benchmark to commemorate PVH's local content strength in delivering large scale projects", says Youssef El Sayed, CEO of PVH Middle East.
PVH has already supplied over 10GW in the Middle East and continues to grow in the region. With this project the company creates a deeper stronghold with ACWA Power and CEEC. "Our bond with both ACWA and CEEC is further strengthened with this collaboration. Our portfolio continues to grow as we supply with the fastest turnaround and highest quality through our own manufacturing facility in Jeddah".
Proudly standing as the unrivaled market leader in the Middle East, PVH has consistently proven its trail of success that promises to grow in the coming years. During a previous visit to the PVH Saudi factory, Mr Mohammad A. Abunayyan, Chairman of ACWA Power remarked: "PVH and ACWA Power have a synergy since the beginning of working together in mega scale projects. This is yet another example of our ambitious partnership to keep growing in scale and innovation."
About PV Hardware
PV Hardware (PVH) is a solar tracker manufacturer and provider of innovative solar tracking solutions for the global solar energy market, including solar trackers, fixed structures and SCADA systems. Each product designed by PVH can be easily installed on any type of terrain, withstands different weather conditions, and is prepared to withstand high winds, supporting any type of module, including thin-film and bifacial. Founded in 2011, PVH has supplied more than 28 GW to photovoltaic plants operating in various countries around the world. It is currently the world's third largest supplier of solar trackers and structures and has the expertise to properly manage solar tracking installations of any capacity, anywhere.